EDITORAIL BOARD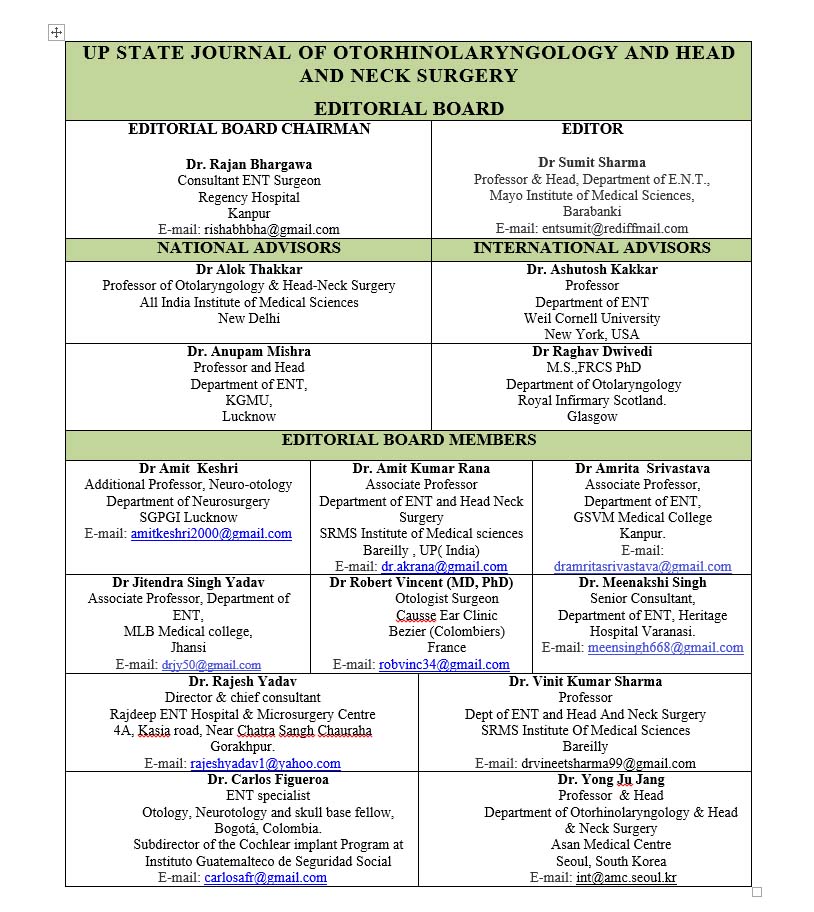 EDITORIAL FREEDOM
The UPJOHNS adopts the World Association of Medical Editors' definition of editorial freedom, which holds that editors-in-chief have full authority over the entire editorial content of their journal and the timing of publication of that content.

Editor base editorial decisions on the validity of the work and its importance to the journal's readers, and editor is free to express critical but responsible views about all aspects of Otolaryngology.

Editors defend the confidentiality of authors and peer reviewers in accordance with ICMJE policy.

Editor takes to ensure that staff working for the journal adheres to best journalistic practices including contemporaneous note-taking and seeking a response from all authors when possible before publication.

To secure editorial freedom in practice, the editor has a direct access to the highest level of ownership.
EDITOR: ROLES AND RESPONSIBILITIES
The main epigram of UPJOHNS is to spread scientific knowledge globally by publishing quality articles in their open access journal. The credibility of published articles completely depends on the effective Editorial process; hence, editorial members are the chief support for UPJOHNS.
EDITOR'S RESPONSIBILITIES TOWARD JOURNAL
Making final decision on acceptance/rejection of a manuscript
Ensure that the manuscript is neither plagiarized nor published elsewhere
Editing of manuscripts for each issue with respect to scientific writing and layout conventions
Sending manuscripts to reviewers for review and systematic evaluation of the review reports and asking the Authors to make necessary changes
Provides statistical direction to the journal
Validating statistical methodology, trends, and results
Involve editorial board members in taking suggestions on each process of the journal publication
Helps in selecting editorial board members
Identifying peer reviewers
Promote the journal at various places like conferences and meetings
Get the journal indexed in agencies in consultation with the publisher
Suggesting changes to enhance the content quality of the journal
Maintain highest standards of ethics and competence
Timely release of the Journal
EDITOR'S RESPONSIBILITIES TOWARD AUTHORS
Providing a clear statement of the Journal's policies on authorship criteria
Deciding and providing guidelines to authors for preparing and submitting manuscripts
Treating all authors with fairness, objectivity, honesty, and transparency
Making editorial decisions with reasonable speed and communicating them in a clear and constructive manner to the authors
Protecting the confidentiality of every author's work
Clearly communicating all other editorial policies and standards
RESPONSIBILITIES OF EDITORIAL BOARD MEMBERS
The role and contribution of Editorial Board (EB) is very important for the success of the journal. Editorial Board is to advise and support the Editor, who has responsibility for the content of the journal.
The Editorial Board members work closely with the Editor of the Journal and reviewers with sub-editorial roles
EB member can share their ideas or give any suggestions that would help for maintaining standards and growth of the journal
Update reviewers and authors with new policies and guidelines
EB member should encourage the submission of quality articles by inviting authors to the journal
EB member should determine whether a submitted manuscript is appropriate for the journal
Recommend acceptance or rejection of the articles considered for publication to the journal Editor
Contribute to Journal development and management through generous relationship with other board members
Elevate Journal's reputation among their affiliated academic community
Should support Editor-in-Chief in handling ethical issues, complaints and appeals regarding the publication standards
Aspirants are encouraged to send their C.V./website linked to their C.V./biography, along with a recent photograph to upaoijournal@gmail.com to be considered for the EB membership
DIGITAL ARCHIVING
UPJOHNS provides for long-term digital preservation through SCOPUS Digital Archiving.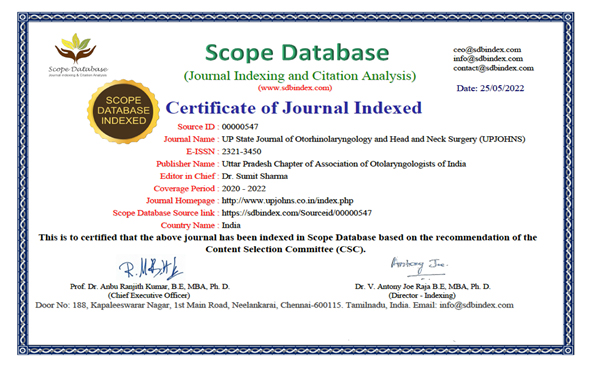 All papers published in UPJOHNS are also permanently archived on a server that hosts UPJHNS website.
PUBLICATION DETAILS
Publication start year:
Print – 2013 / Online 2016
DOI Provider:
Crossref.
Copyright:
Creative Commons Attribution 4.0 Unported License
Frequency:
2 issues per year
• January – June
• July – December
Language:
English
Free Access:
Yes
Formats:
Online and Print
ISSN:
(Print) 2321-3450
ISSN:
(Online) Awaited
Speed of Acceptance:
• 7 days average from submission to first decision
• 20 days from submission to first post review decision
• 15 days from acceptance to publication
• 70% article acceptance rate (as most submissions are from qualified Otorhinolaryngologists)
AHEAD OF PRINT POLICY
UPJOHNS publishes articles simultaneously in Print and Online mode after proper pre-publication editing and approval by the authors. These articles can be cited and quoted using DOI as the reference source. UPJOHNS has a policy that changes WILL NOT be made after the publication of an article unless an accepted procedure for making corrections to the scientific record is followed.
PUBLICATION CHARGES:
Publication in UPJOHNS is free of cost.
The Journal's full text is available online at http://www.ijamhrjournal.org.
The Journal does not charge for submission, processing or publication of manuscripts including reproduction of color photographs.
Journal is distributed free of cost to all the members of Association of Otorhinolaryngologists of India – U.P. State branch & all the Authors
Anyone who wishes to receive a copy of the Journal (subscription) has to become a member of Association of Otolaryngologists of India - UP State Branch.
The membership form can be obtained from the Editor by writing on official mail ID.