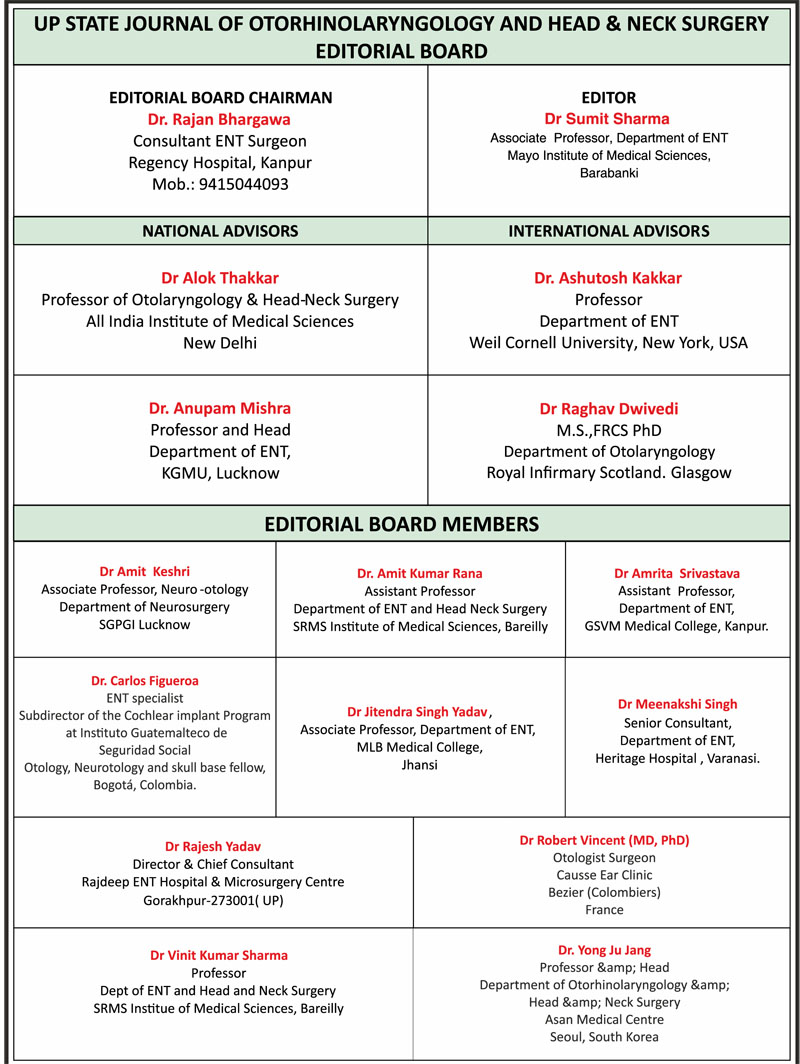 EDITOR: ROLES AND RESPONSIBILITIES
The main epigram of UPJOHNS is to spread scientific knowledge globally by publishing quality articles in their open access journal. The credibility of published articles completely depends on the effective peer review process; hence, editorial members are the chief support for
UPJOHNS
.
Editor's Responsibilities toward Journal
Making final decision on acceptance/rejection of a manuscript.
He should ensure that the manuscript is neither plagiarized nor published elsewhere.
Maintain highest standards of ethics and competence.
Responsible for timely release of the Journal.
Helps in identifying peer reviewers.
Helps in selecting editorial board members.
Involve editorial board members in taking suggestions on each process of the journal publication.
Promote the journal at various places like conferences and meetings.
Contributing Editorial in the Journal.
Involved in editing of manuscripts for each issue with respect to scientific writing and layout conventions, Sending manuscripts to reviewers for review and systematic evaluation of the review reports and asking the Authors to make necessary changes.
Conceiving and give suggestions for special issue topics.
Get the journal indexed in agencies in consultation with the publisher.
Suggesting changes to enhance the content quality of the journal.
Provides statistical direction to the journal. Validating statistical methodology, trends, and results.
Should supervise and support the publisher in handling complaints and appeals, responding genuinely to ethical problems regarding publication of any duplicate or fraudulent work.
Editor must make Editorial decisions at the right time and communicating in a clear manner.
Editor's Responsibilities toward Authors
Deciding and providing guidelines to authors for preparing and submitting manuscripts
Providing a clear statement of the Journal's policies on authorship criteria
Treating all authors with fairness, objectivity, honesty, and transparency
Establishing and defining policies on conflicts of interest for all involved in the publication process, including editors, staff (e.g., editorial and sales), authors, and reviewers
Establishing a system for effective and rapid peer review
Making editorial decisions with reasonable speed and communicating them in a clear and constructive manner to the authors
Protecting the confidentiality of every author's work
Establishing clear guidelines for authors regarding acceptable practices for sharing experimental materials and information, particularly those required to replicate the research, before and after publication
Describing, implementing, and regularly reviewing policies for handling ethical issues and allegations or findings of misconduct by authors and anyone involved in the peer review process
Informing authors of solicited manuscripts that the submission will be evaluated according to the journal's standard procedures.
Clearly communicating all other editorial policies and standards
RESPONSIBILITIES OF EDITORIAL BOARD MEMBERS
The role and contribution of Editorial Board (EB) is very important for the success of the journal. Editorial Board is to advise and support the Editor, who has responsibility for the content of the journal.
The Editorial Board members work closely with the Editor of the Journal and reviewers with sub-editorial roles.
EB member can share their ideas or give any suggestions that would help for maintaining standards and growth of the journal.
Update reviewers and authors with new policies and guidelines.
EB member should encourage the submission of quality articles by inviting authors to the journal.
EB member should determine whether a submitted manuscript is appropriate for the journal.
EB member can select high profile reviewers using multiple sources, e.g., personal recommendations, Web databases, published choice review. They should monitor the process of peer review and take steps to ensure that the peer review is of high standard. Communicate with reviewers as regularly as possible, according to their availability and give them clear instructions in maintaining quality of the journal.
Recommend acceptance or rejection of the articles considered for publication to the journal Editor.
Contribute to Journal development and management through generous relationship with other board members.
Every Editorial Board member should ensure submission of at least 2 manuscripts in a year.
Elevate Journal's reputation among their affiliated academic community.
Should support Editor-in-Chief in handling ethical issues, complaints and appeals regarding the publication standards.
Suggest publisher with new policies and for the development of the Journal.
*Note:
Scholars who accomplish Associate professor/Professor affiliation (or equivalent profile) are eligible to join the board.
ADVANTAGES
Being on the editorial board of a journal is truly productive, pleasant and in fact prestigious which helps in add-on to the scientific world through the ways and guidelines given by experts in the relevant fields. Though, it is time consuming and often goes unobserved, there are some important rewards that make the editorial board members worthwhile. You will be entitled following benefits while working with us as an editorial board member/reviewer of the journal.
Your biography and achievements along with the research profile will be displayed on the journal webpage You are enforced to read carefully various manuscripts in your area of importance and interest. This is the way you are routinely forced to keep yourself up-to-date while checking and suggesting the changes in manuscript.
This work helps to add in and provides a better way to create your identity as a well known expert in your field and may lead to increased invitations to speak at conferences or demand for invited research of your specialized area.
You will be among the contributors who will shape and decide the urgent ways as required with changing societal needs.
Your ideas and subject inputs may help in arranging special issues as per topics of your interest and choice.
You will come across the latest research before everyone else and gives you a position of leadership in your research community.
Aspirants are encouraged to send their C.V./website linked to their
C.V./biography, along with a recent photograph to
upaoijournal@gmail.com
.